In order to Fully Register for the Speed Skills Track Club, please complete the following forms:
Once you have completed the Online Registration Form, please complete the following and bring to practice in an envelope.
1. $200 Cash or Check written to "Speed Skills Track Club" (Subtract $50 from 2nd, 3rd Athletes Registered)
–Example: 2 Athletes = $350    3 Athletes = $500
2. Copy of Birth Certificate
3. Copy of Front/Back of Medical Insurance Card
4. Participant Waiver/Release of Liability  <–Click Here
5. Medical and Media/Photo Waiver  <–Click Here
Waiver Forms are available here: Available here: https://www.speedskillstc.com/registration/
If you have questions, please email: speedskillstc@gmail.com
---
If you do not have a valid USATF # for the 2018-2019 Season, you can get one here:
https://www.usatf.org/membership/application/index.asp 
-When registering, use our USATF Club Code: 07-1178
or
If you have a USATF #, you need to change your Club Affiliation to the "Speed Skills Track Club". This is how you do it:
Email:

youth@newjersey.usatf.org

Ask for a change of Club Affiliation and Include: 

Your child's Current Membership #

Name and Number for New Club (Speed Skills and 07-1178)

Name of Former Club
---
Join Our Remind Group to Receive Important Messages about the Club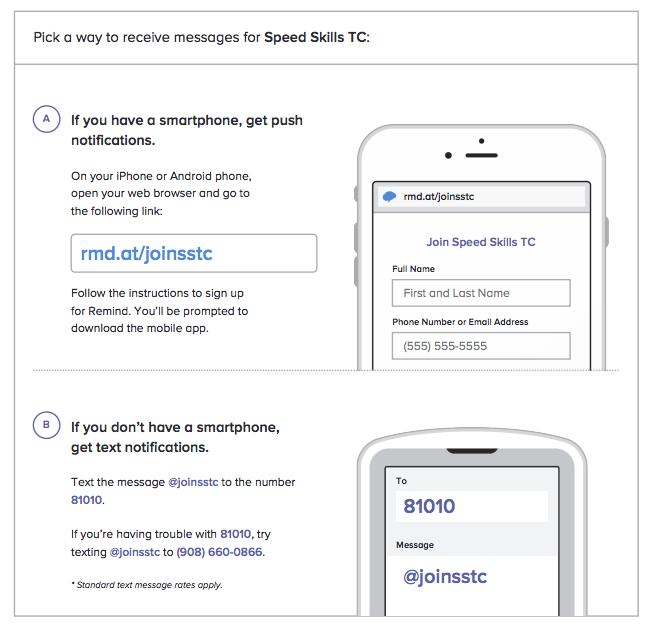 ---
Information
Start Date
Tuesday, November 13th, 2018 from 6:00pm-7:30pm
Location
Union Catholic High School in Scotch Plains
Registration Fee
$200 for the Indoor Season. Fee includes Uniform, T-Shirt and Meet Entry Fees.  Note: If you have 2 or more children, there is a $50 discount for the 2nd, 3rd child.  
Practice Days
We will practice every Tuesday, Wednesday and Thursday (unless there is a conflict at school). If your child wants to join the team, but cannot make all practices, please reach out to me so we can have a plan for him/her.
Rules at UC
We will be using the 2nd Floor Hallways at UC for practice. End to End our hallway is 210m long, so we are able to get a lot of work done. Parents and/or Siblings are not allowed to Roam the building. We will have a spot for parents to sit while practice is in session.
Directions
When you arrive at UC, use the Entrance on the Right Side of the School and drive to the back. Enter through Door #13. Go up the stairs to the 2nd Floor and we will meet there.
Team Apparel
If you are interested in purchasing team apparel for athletes and/or parents. Warm Ups, Sweatshirts, shirts, etc. There will be a New Balance Team Store setup online shortly. The link will be sent out once it is ready.
Regards,
Coaching Staff